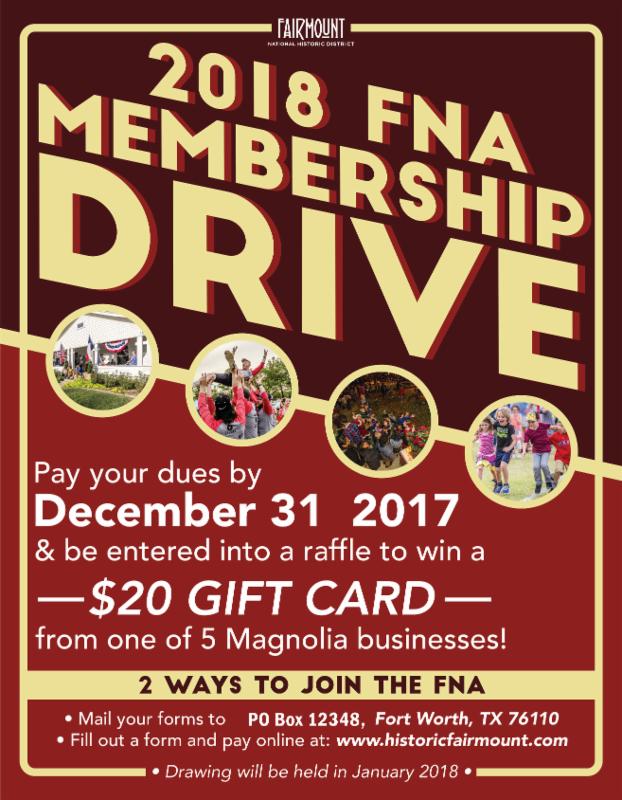 Fairmount Neighborhood Association (FNA)
Members of the Fairmount Neighborhood Association (FNA) are often asked:
"What is the FNA"? "Why is it important I join"? "What's in it for me"?
WHAT IS THE FNA?
The purpose of the FNA is to promote better communication, neighborhood unity, neighborhood improvement, protect and promote the general welfare of residents, and act as an advocate on behalf of neighborhood interests.
To accomplish these objectives, the FNA relies on volunteers, its membership base, and it conducts fundraising efforts. Funds raised are used to help the neighborhood with:
Infrastructure improvements such as adding and maintaining historic street lights and signs.
Funding small ongoing (and sometimes) ad hoc needs of our neighborhood K-12 schools.
Supporting the feral cat trap & release programs of our neighborhood pet rescues.
Short and long term beautification such as the street flag and annual Re-Tree Fairmount program.
Maintaining Fairmount Park and the Allen Green Space.
Provide liability coverage for the Community Garden and neighborhood parades and events.
Connectivity through monthly socials, holiday parties, events, parades, a softball team, and more.
WHY IS IT IMPORTANT I JOIN?
The FNA is a 501c3. It works for us, by us. All of the good work and big fun created by the FNA for us, our families, and our whole happy hood is a powered ENTIRELY by our neighbor volunteers.  All of this activity takes brains, hands, hearts, and soul! And we need YOURS!
Your membership cost supports the efforts of the FNA, even when you can't personally volunteer. Your membership also allows you to have a voice in shaping the neighborhood to benefit of ALL our neighbors: renters, homeowners, individuals, families, new to the hood, here for years, and everyone inbetween.
WHAT'S IN IT FOR ME?
For just $20 for an individual membership or $25 for family or business memberships, you become a vital part of Fairmount's living legacy — celebrating our rich history while helping shape our future. You will also enjoy:
Priority, guidance and quick tip access for all things "historic guidelines" from our Preservation Team.
Complimentary admission to enjoy food, beverage and camaraderie at our 8+ monthly social events AND our December holiday party.
An exclusive members-only newsletter.
FNA voting privileges on activities, expenditures and the leadership supporting our neighborhood.
And, you'll meet a MOB OF TRULY AMAZING NEIGHBORS along the way!
What are you waiting for? Become an FNA member, today!
Complete the attached membership form and send in your payment OR make things fast and easy by going online to: www.historicfairmount.com. Click the ABOUT tab and then JOIN THE ASSOCIATION! Super easy and super quick!
Monthly FNA meetings are held the 4th Monday of each month from 7-8pm at
Southside Preservation Hall, 1519 Lipscomb Street
To learn more about joining the FNA, contact Deanna Stuart: membership@historicfairmount.com