The Fairmount Community Library, located at 1310 W. Allen, is the winner of April 2017 Yard of the Month. Together with its neighbors and partners, Dreamy Life Records and Arts Fifth Avenue, FCL maintains, figuratively speaking, Fairmount's communal front yard.  They welcome us all to Dreamy Life's free Friday night concerts, weekly classes in music and movement with Russell Jack, or toddler crafts, at the library; we are drawn to A5A's weekly classes in meditation, arts, yoga, as well as to the Django festival in January and National Tap Day in May.  The massive commercial building, comprising nearly a city block, has been owned since 1992 by Old Home Supply's Ralph Watterson.  According to city deed cards, the single-story, flat-roof building was built in 1925 on the unpaved Wetherbee Ave as a brick-veneer "storefront and garage" by S. M. Gaines of 2954 W. Cantey Street:  across the street on the Eastern side of 5th was the "Magnolia Roofing Company."  Within 25 years, Wetherbee Ave. had been renamed W. Allen, and Magnolia Roofing had become a commercial greenhouse space (which it remains to this day).  The 1310 W. Allen section of the building then housed "Furniture Shop and Paints," while 1622, 1628 and 1630 5th Ave. were all dedicated
to "Upholstery."  Letters spelling out "TEXTILES" are still faintly visible under layers of paint on the W. Allen façade.  The original builder's daughter, Mrs. Sarah Gaines Jackson, inherited the building in 1941, then sold it to Forrest Smith in 1946 for $7500, or $2.77 per square foot.  Forrest and his wife Faith, who lived at 3508 College Ave, also bought multiple residences on 5th, some of which they maintained as rental properties, while the storefront housed their shop, Forrest Smith Antiques, for more than three decades.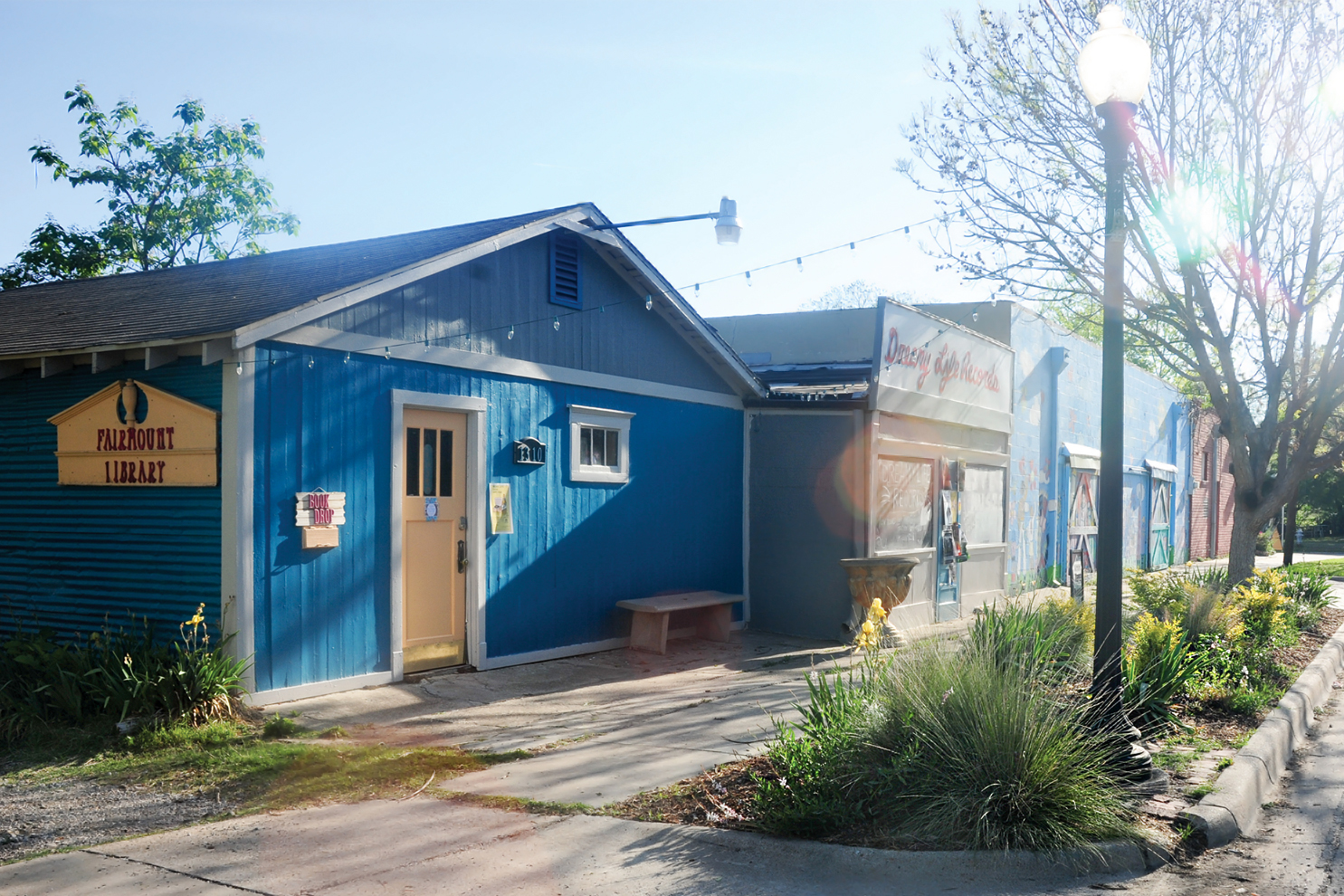 For the first half of the 20th century, more than 30 such storefront commercial spaces served the residents of Fairmount:  beauty shops, corner bodegas, and grocery stores, like W. U. Anderson Groceries and Meat of 1225 W. Myrtle St. (now an Airbnb rental, with a newly refreshed sign reminding us of its origins). A few were national chains: Old Home Supply at 1801 College Ave. still displays its Piggly-Wiggly lettering, commemorating its past as part of the Nashville grocery franchise, created by Clarence Saunders in 1916.  April 2016 YOTM winner 1450 W. Allen Avenue was also a grocery store, and retains a vintage sign advertising "Boswell's Milk."
On the Allen Avenue side, Gracie Tune and the Arts Fifth Avenue staff have always maintained seasonally appropriate container gardens at their front door, and a small bed with some perennials, including a Martha Gonzalez (a hardy and beautiful single-flower red rose named for a Navasota gardener) to the Allen St. side.  On 5th Ave., in front of the former upholstery shop, A5A planted several crape myrtles in the parkway.  A massive planter with a giant cactus,  donated by Ralph Watterson, nestled next to the library's entrance for over a decade, but regrettably did not survive the 2017 winter's sudden freezes.  The alley behind the library has long held a bed of yellow and white irises held in by railroad ties.
Approximately three years ago, long-time community servant and neighborhood refuge the Fairmount Neighborhood Library, underwent a change of board, becoming the Fairmount Community Library under the initiative of Alicia Bohannon, Sara Karashin, and Christina Carney.  Each member, Sara reports, brings her unique talents, education, and interests to bear on the project. Interior updates (including shelving, paint, and repairs) and programmatic vision occupied the board for two years.
Around 2016, Sara Karashin, a trained horticultural designer, decided to transform the grassy parkway directly in front of the door into a garden.  She did not want a formal garden for the full-sun area, which had no irrigation and just one soapberry tree (sapindus drummondii):  clearly, this space called out for drought-tolerant southwest natives.  To achieve the soft, natural design she wanted, she shopped at the Botanic Garden semi-annual plant sale and at Hermann's Nursery, where she bought white gaura (gaura lindheimeri), non-seeding ligustrum (a relative of the invasive Chinese privet) and society garlic (tulbaghia violencea), a less fussy cousin of the trendy South African plant, agapanthus.  These were planted among Mexican feather grass and the Persian
native "Silver Carpet" lamb's ear sage (stachys byzantina), which is actually not a member of the salvia family, despite the name.   After devoting weeks to eradicating the established Bermuda turf grass, Sara found that the soil in the parkway was hardened clay:  the volunteers "nearly broke our shovels trying to plant!" she laments.  A Facebook call for help produced a generous offer from Michael McDermott, who donated the labor of his landscaping team to work the soil.  He also suggested moving a few iris rhizomes from the alley beds to complement the gentle palette, mostly white and yellow with a few mauve accents, which Sara had
selected.
These low-key colors look better than ever, when juxtaposed with recent vibrant exterior improvements. A5A is painted brick red, with black and white trim and one azure door.  The section linking the two non-profits has a vivid large-scale mural by neighborhood artist Jo Dufo Sierra, primarily in light blue, with aqua, red, pink and yellow accents.  Recently, the library changed their exterior siding from a solemn beige to radiant teal with grey trim, colors inspired by historic shades of the Mid-century modern period, also the origin of the vintage hanging light fixtures outside A5A.  In this endeavor, they received help from landlord Watterson, who bought the Behr paint, donated historic wood, doors, and trim, and paid for repairs to the façade. The
Fairmount Ferals softball team donated their labor, painting the storefront as community service, after a game lost to the Ryan Place Flyers. Leigh Ann Neese had the concept for a false storefront for the record store, which is actually accessed through the library's front door at 1310 W. Allen Ave.  Using her detailed sketches, the crew of volunteers installed an historic carved wooden portal, painted the same teal as the library front, on the beige Dreamy Life façade, next to a giant chalkboard for their calendar of events.  Finally, a hand-painted teal and red cursive sign reading "Dreamy Life," makes the business more visible to their customers and the entire neighborhood, and matches the giant Helvetica "TAP" sign around the corner marking Arts Fifth
Avenue's outdoor stage in the same colors.
Our thanks, and a donation, go to the Fairmount Community Library.
The Yard of the Month committee is Susan Taylor Harper and Bonnie Blackwell.