May's Yard of the Month winners are Leah and Desi Suasnovar of 5th Ave. The Suasnovar's gardens actually cover two homestead lots, 1422 and 1424 5th Ave. The home has only two prior owners: Willam Sapper, who owned it for several decades in the early 20th century, and Angelo and Rosa Suasnovar, who owned it from 1991 to 1999.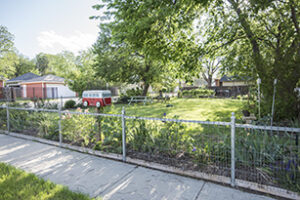 The vacant lot next door, which comprises much of their showpiece garden, was owned for more than 30 years by Charlie Martinez, until the Suasnovars purchased it in 2010, tore down some decrepit structures, and installed their gardens. The bungalow has many Craftsman features, including a deeply eaved front porch, square columns, built-ins surrounding a fireplace, and dark woodwork. The home's exterior was recently painted a soft dove gray and cream with red accents. Surrounding the house and double lots is a low metal fence (not cyclone—what type?), which allows sight-lines into the garden, secures the family's small dogs during exercise and play, and provides support for many vines, including passion flower and clematis.
It's the kind of garden one pauses at for several minutes, to take it all in. In the center of the yard are enough feet of green grass for cricket matches, soccer games, and lawn parties. Around the perimeter are deep beds of flowering perennials, selected for beauty and versatility. Among the taller plants in the lot are peach trees, several sizable oak leaf hydrangeas huddling under a shade tree, crape myrtles and birds of paradise trees (caesalpinia gilliesii): the latter sport beautiful yellow flowers with red hair-like stamens. Despite the name, the bird of paradise tree is not related to the spiky bird of paradise flower, though both tolerate heat and drought well. Lower ground-cover plants include purple oxalis and mint. In the mid-range — plants of 3-4 feet – there are several clumps of German iris in gentle shades of pink and yellow, larkspur, Texas native pink guara, and multiple types of salvia, including indigo spires and the red and white variety with the witty name, "Hot Lips."
At the back of the deep lot is a potager, or kitchen garden, with several raised beds, separated from the ornamental gardens with a wooden fence and crape myrtles (lythraceae indica). (What is the name of woody-stemmed plant with pink flowers trained on fence?). In the beds are tomatoes, asparagus, lavender, culinary sage, and lemongrass. Between the beds are several volunteer cilantro plants, which reseed from the plants inside the beds year after year.
Our thanks, and a $35 gift certificate to C. C.'s Touch of Nature, go to Leah and Desi Suasnovar.
Fairmount's Yard of the Month Committee: Bonnie Blackwell and Susan Harper