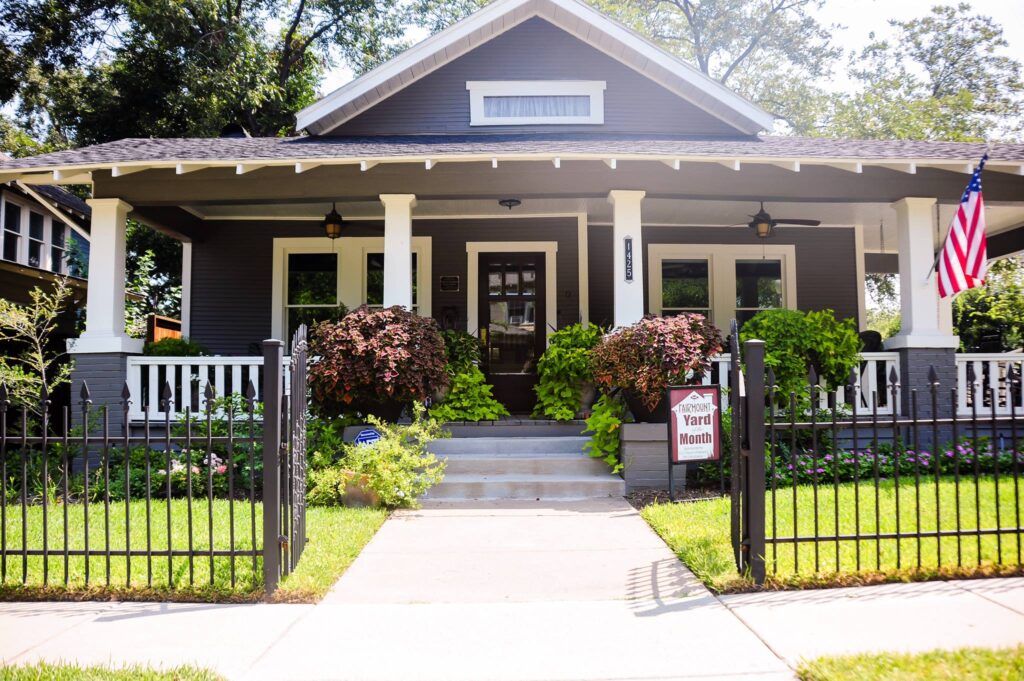 September's Yard of the Month winners are Kathy and Robert Fain of 1425 Fairmount Ave. The Fains have lived in the home, their tenth in 45 years of marriage, for about one year; in 2018, they will celebrate the home's centennial.  The 1910 Sanborn Fire maps show the 1400 block of Fairmount Ave. (then called King) was undeveloped, but by the 1920's, there were homes at all along the block in Craftsman and Foursquare architectural styles.   1425's first owner was John A. Ford, a conductor for the T & P railroad.  In 1930 Ford sold the home to William Johnson, a chiropractor born in 1898 in Ohio.  Also living in the home were Johnson's wife Loretta, born 1903 in Illinois, and their son Willard C. Johnson, who was born in New Mexico in 1929 (www.uscensus.gov).  In 1957, Mr. and Mrs. Johnson retired and returned to New Mexico, and their son Willard, a utility service repairman, sold the house to Sophia Grace Dell before moving to Denton. Ms. Dell was in the process of buying up the 1400 block of Fairmount for rental properties.  Mrs. Dell owned 1417, 1423 and 1425 Fairmount until her death in 1979, when they were inherited by daughters Betty Dell Keniff and Ruth Carline Dell Simmons.  In 1996, Juan and Bonnie Mata purchased 1425, where they raised daughter Cassandra and son David.  After their departure, 1425 was unoccupied for several years in the 2000's.  Fairmount veterans will remember the yellow house on the corner at Myrtle, missing several windows, sometimes housing a transient population both indoors and underneath the home.  It was a tragic shell at the point that the Fains bought it and began the arduous process of renovation.
The Fains welcomed us into their beautiful home on the Fairmount home tour May 2017. Those lucky enough to walk through saw a beautiful eat-in kitchen with unique green granite counter tops, and new Craftsman-style built-ins in the dining and sitting rooms. The Fains also turned the house from a 2/1 to a 3/2 by renovating the attic. They installed a specially permitted outdoor fireplace on the back porch, which they use as an outdoor living room year-round. To the exterior, they added period-appropriate windows and doors (most were boarded up), and painted the cladding in Sherwin Williams' Gauntlet Gray with Benjamin Moore trim on the eaves and windows in Dove Gray.
Shortly before home tour, Bob Fain reports, they realized they needed to quickly shift focus from interior décor to improving the yard. First, they addressed the hardscaping – non-horticultural, built-in elements such as paths and paving — on the lot. They hired the DFW company Buzz Fence to install the black iron fencing which provides structure and some pedestrian routing: 1425 is situated on a busy street corner where pedestrians had for years cut directly across the lawn.  Improved sidewalks and the fencing encourage more orderly foot traffic.   Secondly, they hired Manuel Villegas to lay a driveway and patio in the side and back yards, using salvaged antique bricks from the South Main $6.8 million revitalization project begun in May 2015.  With the hardscape in place, they next enlisted Villegas to help them lay St. Augustine turf. They were so thorough that they even laid the St. Augustine grass in the alley they share with the Suasnovars, past winners of YOTM for their fabulous full-lot garden at 1425 6th Ave.   With hardscaping and sod in place, the home had not only two porches, but also several outdoor 'rooms' to decorate with potted plants, furnishings, and statuary.
Both spouses confess that they are still in the "trial and error" stage of planting in this new environment. One trial is their first Western-facing front yard and the rigors of full sun all afternoon: "you have to plan your social life around being home at dusk to water," Kathy quips. The garden's size and shape presented some additional challenges. The Fains' previous home had a ½ acre yard, for which they employed a variety of landscapers and pest control companies.  The current yard is just 1/10 of an acre, and they do all the maintenance themselves. In downsizing, the Fains retained just a fraction of their yard ornaments gathered over the last 4 decades.  One favorite is a statue of St. Frances embracing a deer and a wolf, a gift from Kathy's 96-year-old mother, currently nestled under a 100-year-old pecan tree in the side yard.  Nearby, the goddess Demeter rests her foot on a sheaf of wheat while sheltering two young children from some rather assertive plants: A Rasputin-like crape myrtle that survived being cut down and ground into sawdust, and the persistent, shade-loving ground cover, transcendentia fluminesis, or green wandering Jew.  Also known as purple heart, these plants take their name from the anti-Semitic legend of a Hebraic cobbler who supposedly taunted Christ during the crucifixion, and as punishment, must walk the earth until the Second Coming.
One strategy for a smaller yard is to explore multiple strains of one plant with many varietals. As their statement plant, the Fains collect coleus, also known as "painted nettle," which come in a spectacular range of colors from nearly black to vivid red and neon chartreuse. Coleus need overnight temperatures of at least 60 degrees to survive.  To maintain theirs as perennials, the Fains grow theirs in pots, and have some examples which they have moved around for years.   Favorite varieties include "Apocalypse" (velvety black ruffled leaves trimmed in pale green), "Camp Fire," (rusty red), and "Dexter" (absinthe green with blood-splattered red flecks), which liberally blanket the front and back steps.   The Fains note that the coleus protected on the Eastern exterior's shade exhibit more brilliant colors, and suggest that other gardeners consider maximizing color before placing them in the landscape.  In the front, porch planters setting off the home's dark gray exterior are filled with upright "Plat's Black" New Zealand flax (phormium tenax), called harakeke by the Maori, who use it to make ceremonial cloth, rope, and sails. The flax share large planters with trailing, grasshopper green sweet potato vines which provide textural contrast.  Verging the front steps are potted lobelia, Popcorn drift spray rose (a peach-colored glossy-leaved groundcover rose that spreads up to 2.5 feet), periwinkles, an annual vinca, and two young sweet olive trees (osmanthus fragrans). Several Indian hawthorn shrubs (rhapiolepsis) with pink and white blooms and dark purple fruits lead visitors to the Northern side yard, where dwarf Mondo grass cluster around stepping stone leading to the utility yard. From the front beds, the Fains are particularly fond of the "Soft Caress" Mahonia, a bamboo-like plant with dramatic yellow fall flowers, which was named Southern Living's plant of the year in 2016.  When shopping locally, the Fains prefer to buy their plants at Archie's on Boaz, and Hermann's Wholesale Nursery, between S. Hughes Ave. and Windowmere St.
The Fains also have a number of seating and dining arrangements in the back porch and back yard: a full-size dining table and six chairs between the porch and driveway invite visitors to an alfresco meal. In the side yard, an ornamental iron bench and chair painted beryl green lure us to sit among the potted "physic garden," which features herbs and medicinal plants, including chives, mint, basil, rosemary, and parsley. On the back porch, the Fains treasure a potted planted made for them by Matt Pereda to display during Home Tour.  Caladiums and more coleus cluster near the back stairs.  Nearby, a chiminea, or free-standing Spanish fire pit with a characteristic pear shape and tall vent, makes outdoor dining possible in four seasons.  Also flanking the driveway, the Fains planted two Japanese maples, several types of begonia, and lemon-lime nandina, a less invasive alternative to the nandina domestica which can be widely spread by birds consuming the seeds.  They also have a climbing Mandeville (cibotium barometz), which, like the transcendentia, has a somewhat suspect legend in its past: Mandevilles were rumored to be the 'vegetable lamb of Tartary' because the rhizome is wooly like a lamb's foot.
For combining so many rich legends and palettes in their urban oasis, the Fains receive our thanks, and a $30 gift certificate to 44Bootlegger.
The YOTM committee is Bonnie Blackwell and Susan Taylor Harper.