Veronica Alaniz Villegas of 1330 6th Avenue is Fairmount's May winner for Yard of the Month. This recognition marks her 20th anniversary in the home. Veronica recalls moving in during Home Tour, Mother's Day weekend, 1997. Passersby, seeing the activity and open doors, assumed that the home was open for touring, and wandered into the entryway to admire the tall ceilings and graceful columns. Since then, Villegas has been joined at 1330 by three children, Christopher, Michael, and Katherine, now aged 15-19, and more recently, her parents, Valdamar and Mary Helen Alaniz, who came to occupy a separate apartment co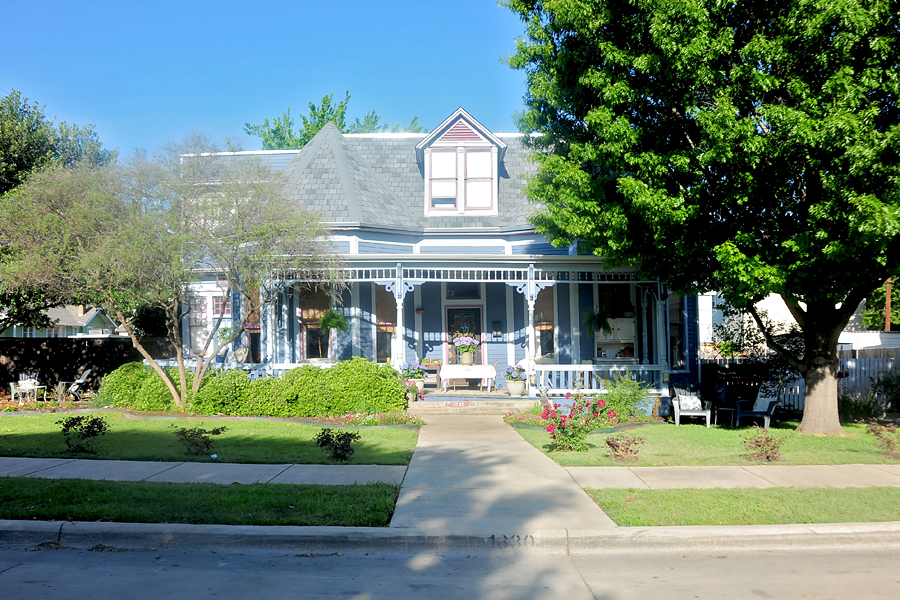 nnected to the rear of the home across a courtyard about two years ago. The home's exterior received significant repairs since 2015, including a new roof, siding, gutters, and paint. Renovations yielded some fascinating discoveries, like ladies' button-hook shoes and newspapers stuffed in the walls for more than 100 years. During the restoration, Veronica considered a San Francisco-style "painted lady" palette in multiple pink hues; however, she was outvoted by her multi-generational family, who liked the existing colors and wanted to see them refreshed, not replaced. The home has historic Kelly Moore paints, predominantly Federal Blue, with accents in Saltbox Blue and Victoria Plum. The result is a lovely, cool palette echoed by the lot's six Vitex (or "chaste trees") blooming amethyst every May.
The graceful, two-story Queen Anne Revival with a leaded-glass front door, and a dusting of decorative gingerbread across the front porch, was built in 1895 by Henry W. Lusher. According to Fairmount Historian Michael McDermott, the home "may be the oldest intact residence remaining" in our neighborhood. Lusher, a local carpenter, planer, and window-maker, added "delicate jig-sawed brackets and a spindled frieze" to the home's exterior as testimony to his professional skill. By the early 20th century, the home transferred to local physician Dr. Willie W. Paul, whose daughters Willie Nell and Alice were born in 1914 and 1916. The Pauls once owned most of the block, and they built homes at 1316 and 1324 for Willie Nell and Alice, who remained on 6th Avenue until the 1970's, while 1330 was divided and rented as a triplex.
Just a handful of Fairmount's imposing two-story Queen Annes, built between 1880 to 1910, survive on their original double lots (which may measure between 5000 and 13,000 square feet); Lipscomb is particularly rich in examples. The Benton house at Park Place and 6th Avenue, and the Cowan-Kuhlman house at 1800 Washington Ave, are two such homes: many of us remember fondly that both were featured on the 2012 Home Tour. Architectural features of the Queen Anne Revival period include high (12- to 14-foot) ceilings, lack of a central hallway, polygonal towers or pyramidal roof planes, tall and narrow multi-paned windows and doors, often with transoms, turned porch posts and spindles, asymmetrical front façade, and second-floor gables.
1330 6th Ave. varied that asymmetric style initially, as the home's façade was a balanced rectangle with two triple-window bays, until a 1920 addition of a two-story sleeping porch on the Morphy Street side brought it into a rambling Victorian shape. A contemporary newspaper article, given to Veronica by neighbor Daisy Laughlin Young, lamented the addition, bluntly calling the home's beauty "marred" by the 1920 renovation. (Daisy Young and her husband Don had purchased 1316 6th Ave. from Willie Nell Paul, shortly after they married nearly 50 years ago, and Daisy lived there until her death in December 2016). In 1995, Frank and Patsy Cdebaca, who owned A. O. Prosthetics at 1401 W. Magnolia Ave. (now Hanger Clinic Prosthetics and Orthotics), purchased 1330 to renovate and sell it. Sadly, some wonderful features were lost in the flip, including original porch railings and a floor-to-ceiling fireplace mantle, but much of the home's Victorian splendor remains, and Veronica has added back in many period fixtures, like ornate chandeliers.
Veronica and her father, Valdamar Alaniz, design and maintain the yard themselves, with occasional help from neighbors. Desi Suasnovar, a past YOTM winner who lives just down the street, planted a vitex agnus castus for the birth of the Villegas' daughter, Katherine, now a high school student: appropriately enough, the trees are a symbol of purity, which is also the Greek etymology of Katherine's name. His wife Leah's larkspur (delphinium) wandered up 6th avenue with the assistance of some obliging birds and now blooms in Veronica's yard (and several others in between). The older sons, Christopher and Michael, also had their births marked with tree plantings. Christopher's live oak, (quercus virginiana) now 19 y
ears' old, shades that infamous sleeping porch addition, where it may live hundreds of years. The South China Maple (acer sino-oblongum) celebrating the arrival of son Michael, now 17, did not survive, and was replaced by a thriving red oak.
Landscaping a vast lot requires a deliberative approach. Veronica has adopted a wise strategy, installing four to twelve examples of the same plant in sweeping arcs, to make a dramatic visual impact. Given the scale on which she must plant, Veronica's approach is to shop the "Lazarus" plants reduced for quick sale at the end of a season at big box stores. Many of the varieties treated as "annual color" will survive multiple years in our mild winters. More than five years ago, Villegas planted both sides of the path leading to the front door in a soft, fragrant carpet of frilly dianthus, mostly Drummond's pink and Devon red. Where they end, Stella D'Oro daylilies (hemerocallis citrina) are succeeded by creeping phlox, which curve left into Texas Rock Roses (cistaceae), and Blue daze evolvus, finally terminating in a bank of Autumn sage salvia bushes (salvia greggii) at the Morphy Street fence. Last April, Veronica turned her attention to the path leading to the rear apartments, where she put in dozens of Angelonia, dwarf coreopsis, speedwell (or gypsy weed), pincushions and cosmos under the feet of six young Vitex trees curving toward the porch. This March, Veronica and Valdamar planted twelve loropetalum chinense, or Chinese fringe flower bushes, skirting the parkway, where they march toward a hybrid tea rose, the Don Juan, that Veronica "thought she had eradicated," but which returned and insinuated himself once more.
Behind the massive house is a pocket garden joining the garage, new apartments, a deck and the original home. The 360-degree beds center around a fire pit and a fountain, providing a quiet space for her guests and family to enjoy. The lawn is planted in St. Augustine grass, and the encircling beds are lined with pansies, Gerber daisies, and miniature roses. Veronica is hoping to put in some raised vegetable beds and an herb garden here as well.
Our thanks, and a gift certificate to Avoca Coffee House, go to the Villegas family.
The Yard of the Month committee is Susan Taylor Harper and Bonnie Blackwell.