Each year Historic Fort Worth, Inc. recognizes outstanding preservation projects in Fort Worth through their annual awards program. During the spring, nominations are requested from the public for projects and people worth of consideration for the award. Four categories of awards recognize excellent preservation projects, rehabilitation of residential properties, great stewards of historic places, and significant achievements of individuals or organizations in the preservation of Fort Worth's historic resources. All nominations are evaluated based on the Secretary of the Interior's Standards for the Treatment of Historic Properties.
This year's award winners include three properties in the Fairmount National Historic District: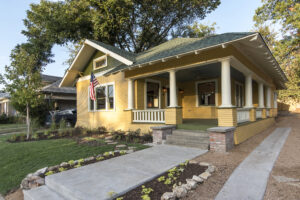 2233 College Ave.  –  Fairmount residents, Michael McDermott and Stan Tucker, won HFW's Preservation Project award for their excellent restoration of a c. 1913 bungalow. The house appeared to have been duplexed early in its life and an open side porch had been enclosed to create more square footage. Mike and Stan opened up the porch to match its original layout and converted the house back into a single family residence. Interior features include boxed beamed ceilings, an open and paneled colonnade dividing the living and dining room spaces, and an original fireplace. Period appropriate light fixtures were added to the space, as well as an antique plate rail that Mike found to replace an original piece that had been removed. Attention to detail can be seen throughout the house which has since been sold and is now the home of a brand new family.
---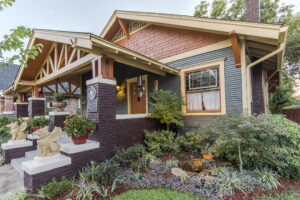 2232 College Ave. – Eric and Stacy Luecker were awarded the Great Steward award for their restoration, care and historic research of their California style bungalow. The house, built in 1915, was deemed a Texas Registered Historic Landmark in 2015. The house remains in its original footprint and still has its original doors, built-in cabinets, hardware and beamed ceilings with original accent lights. A prior owner began restoration on the property in 2004 and the Lueckers took over the process when they purchased the house in 2008. A 1916 classified ad for the house in the Fort Worth Star-Telegram touts the new homeowner "will be free to work" and will "have the courage to go forward."
---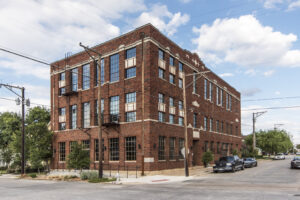 1329 College Ave. – The College Avenue Lofts – Owners Kris and Rhonda Fagala were awarded a Preservation Achievement Award for their hard work preserving the exterior of the 1925 structure and adaptive reuse of the building. Located in the old College Avenue Baptist Sunday School and Athletic Building, the structure now sports 1,160 square feet of commercial space, 10,500 square feet dedicated to seven high-end residential loft apartments, and includes an interior parking garage.
---
Fairmount congratulates this year's winners and is proud to have such wonderful preservation-minded residents who are interested in preserving our past for the future.
If you are interested in nominating someone for next year's preservation awards, visit Historic Fort Worth, Inc. online at www.historicfortworth.org.